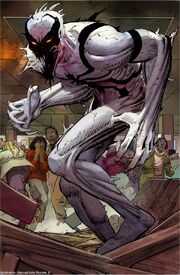 Anti-Venom led Spider-Man to Oscorp and the two split up. Brock disguised himself as Spider-Man to distract the other Thunderbolts while Spider-Man went after Osborn. After webbing up Songbird and Radioactive Man to a wall, Anti-Venom faced Gargan, who was now wearing a new Scorpion battlesuit to protect his recovering symbiote. After a grueling battle Gargan, as Scorpion, hit Anti-Venom with his stinger and injected a poisonous formula that seemingly destroyed Brock's symbiote. Gargan (now Venom) advanced to kill Brock but was met with resistance by his Venom symbiote. The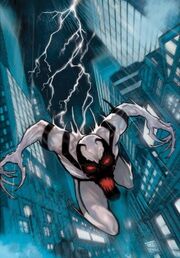 symbiote gained strength and broke though Gargan's battle suit, refusing to let Gargan kill Brock. Gargan explained that the alien still loved Brock too much and gave up, but he promised Brock that he would get past this problem and someday finish him off, to which Brock replied "not if I kill you first." Unknown to Gargan, Brock's Anti-Venom suit reformed. Now a fugitive for helping Spider-Man and fighting the Thunderbolts, Brock was back on the streets, planning to continue his former vigilante antihero career with seemingly increased religious emphasis as The Anti-Venom. He even cured a young girl, Jenna Cole, from her heroin addiction.
Brock was the first person to find out that Martin Li was Mister Negative. In the end, Eddie questioned his own faith and cried out that no one would believe him, because he was a monster.
Ad blocker interference detected!
Wikia is a free-to-use site that makes money from advertising. We have a modified experience for viewers using ad blockers

Wikia is not accessible if you've made further modifications. Remove the custom ad blocker rule(s) and the page will load as expected.