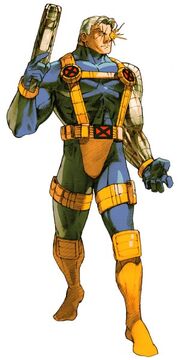 He is a character in the Marvel vs. Capcom, X-Men series.
Cable is Nathan Summers, the son of Scott Summers (Cyclops) and Madelyne Pryor (AKA the Goblyn Queen, a clone of Jean Grey produced by Mr. Sinister). Infected by a techno-organic virus by Apocalypse as a baby, Cable must use his telekinetic powers to keep the virus from ravaging his body. Thus in one of Cable's win poses, his arm succumbs to the virus and deforms.
Ad blocker interference detected!
Wikia is a free-to-use site that makes money from advertising. We have a modified experience for viewers using ad blockers

Wikia is not accessible if you've made further modifications. Remove the custom ad blocker rule(s) and the page will load as expected.