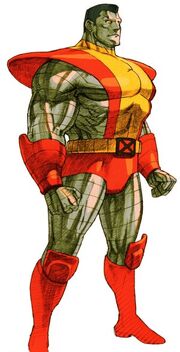 Piotr "Peter" Rasputin was born on a Soviet collective farm called the Ust-Ordynski Collective near Lake Baikal in Siberia. He lived there with his mother Alexandra, father Nikolai, and sister, Illyana. His older brother, Mikhail, had been a Russian cosmonaut and had apparently died in a rocket accident Peter's superhuman powers manifested during his adolescence while saving his sister from a runaway tractor. At first, Peter was content simply to use these powers to aid the other people of the collective; however he was soon contacted by Professor Charles Xavier, the founder of the X-Men. Xavier was recruiting a new team of X-Men to rescue the original team, most of whom had been captured by the sentient mutant island Krakoa.
Ad blocker interference detected!
Wikia is a free-to-use site that makes money from advertising. We have a modified experience for viewers using ad blockers

Wikia is not accessible if you've made further modifications. Remove the custom ad blocker rule(s) and the page will load as expected.