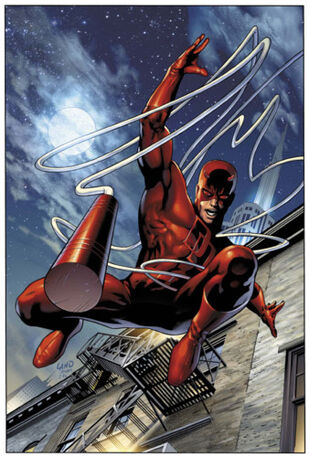 Daredevil (Matthew Michael "Matt" Murdock) is a fictional character, a superhero incomic books published by Marvel Comics. The character was created by writer-editor Stan Lee and artist Bill Everett, with an unspecified amount of input from Jack Kirby[1] and first appeared in Daredevil #1 (April 1964).
Living in the Hell's Kitchen neighborhood of New York City, Matt Murdock was blinded by a radioactive substance that falls from an oncoming vehicle. Yet while he could no longer see, the radioactive exposure heightened his remaining senses beyond normal human ability. His father, a boxer named Jack Murdock, supported him as he grows up, though he was later killed by gangsters after refusing to throw a fight. After donning a yellow and black, and later a dark red, costume, Matt seeked out revenge against his father's killers as the superhero Daredevil, fighting against his many enemies including Bullseye and the Kingpin. Daredevil's nickname is "the Man without Fear".
Ad blocker interference detected!
Wikia is a free-to-use site that makes money from advertising. We have a modified experience for viewers using ad blockers

Wikia is not accessible if you've made further modifications. Remove the custom ad blocker rule(s) and the page will load as expected.