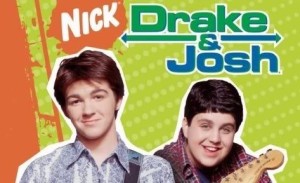 Drake & Josh is an American sitcom that premiered on Nickelodeon on January 11, 2004, which follows the lives of two stepbrothers. It stars Drake Bell and Josh Peck as stepbrothers Drake Parker and Josh Nichols, respectively. Both actors had played roles in The Amanda Show, along with Nancy Sullivan, who appears as Drake's mother in the series. Jonathan Goldstein plays Josh's father, and Miranda Cosgrove plays Drake's little sister Megan.
The show premiered on January 11, 2004 and ended on December 5, 2008
Ad blocker interference detected!
Wikia is a free-to-use site that makes money from advertising. We have a modified experience for viewers using ad blockers

Wikia is not accessible if you've made further modifications. Remove the custom ad blocker rule(s) and the page will load as expected.