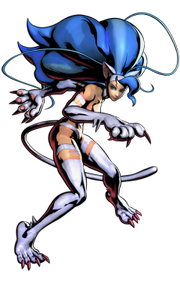 She appears in the Marvel Vs. Capcom, Darkstalkers series.
Felicia is a video game character from Capcom's fighting game series Darkstalkers (or Vampire Savior in Japan.) She appears in Marvel vs. Capcom 3 alongside Morrigan and Hsien-Ko, two other Darkstalker females.
Felicia was raised by a Catholic nun named Rose. When Rose died, Felicia left her town hoping to be a musical star. During her travels, she met many other catgirls of her kind. With her newfound friends, she set out for her dream of being on stage. Eventually, she and her friends started a musical with Felicia being the main star.
In the events of Darkstalkers 3, she wondered about how she could make others happy. In her ending, Felicia became a nun herself and founded an orphanage named "Felicity House."
Ad blocker interference detected!
Wikia is a free-to-use site that makes money from advertising. We have a modified experience for viewers using ad blockers

Wikia is not accessible if you've made further modifications. Remove the custom ad blocker rule(s) and the page will load as expected.