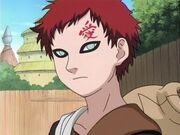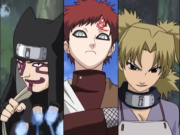 He is a charcter in the Naruto series.
Gaara is a major supporting character of the series, originally introduced as an antagonist. As the jinchūriki of the One-Tailed Shukaku,[5] Gaara gained the nickname "Gaara of the Sand Waterfall, Sabaku no Gaara; English "Gaara of the Desert"). In Part II of the series, he became the Fifth Kazekage (五代目風影, Godaime Kazekage; Literally meaning "Fifth Wind Shadow") of Sunagakure.
Gaara is the third child of the Fourth Kazekage and Karura, and the younger brother of Temari and Kankurō. Before Gaara's birth, his father ordered Chiyo to seal the One-Tailed Shukaku within him, in hopes that Gaara would become the ultimate weapon for Sunagakure as he was the only one of the Kazekage's three children to be compatible with the beast. He was born premature and therefore, was an unusually small and frail infant. Before she died, Karura passionately held her son, vowing to always protect him. Gaara was trained by his father, but raised mainly by his maternal uncle, Yashamaru
Ad blocker interference detected!
Wikia is a free-to-use site that makes money from advertising. We have a modified experience for viewers using ad blockers

Wikia is not accessible if you've made further modifications. Remove the custom ad blocker rule(s) and the page will load as expected.