Ghost Rider is set to appear in Ultimate Marvel Vs. Capcom 3.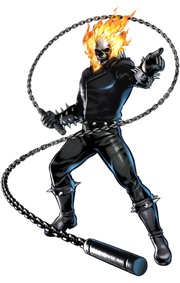 Johnny Blaze was once a motorcycle stuntman at a carnival. When his adopted father Crash Simpson revealed he had cancer, a desperate Blaze turned to the occult to find a solution. He struck a deal with the demon Mephisto for Crash to not die of cancer in return for Blaze's servitude. However, Crash died in a motorcycle stunt gone wrong soon after. Johnny Blaze was still Mephisto's slave, and found himself transformed into a flaming, skeletal figure. Mephisto had merged his soul with that of the Spirit of Vengeance, Zarathos. Becoming the Ghost Rider, he battled many beings of pure evil after escaping Mephisto's clutches. Johnny occasionally struggled with controlling Zarathos' attempts to gain control in order to spread vengeance and bloodlust, but the Ghost Rider rode on. Saying he's not a super hero, Ghost Rider punishes the guilty for their sins, and protects the innocent from such ungodly forces.
In his Ghost Rider form, Johnny Blaze takes the shape of a skeletal demon with a perpetually burning skull. He wears classic biker gear; a leather jacket and leather pants with gloves and boots. Spikes run across his wrists, shoulders, and ankles.
Ad blocker interference detected!
Wikia is a free-to-use site that makes money from advertising. We have a modified experience for viewers using ad blockers

Wikia is not accessible if you've made further modifications. Remove the custom ad blocker rule(s) and the page will load as expected.