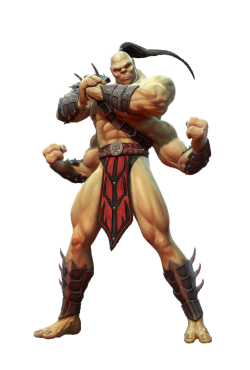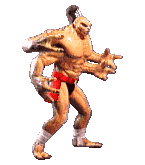 Goro is a character in the Mortal Kombat fighting game series, who made his debut in the first Mortal Kombat game as the game's sub-boss.
Goro is one of the original characters, debuting in the first Mortal Kombat arcade game as the sub-boss, and later appeared as the sub-boss of Mortal Kombat 4 (only available on home consoles). He first became playable in the Game Boy port of Mortal Kombat.
He appeared as a four-armed Shokan warrior who had been the champion of the Mortal Kombat tournament for nine generations, remaining undefeated for 500 years.
Goro is among Shao Kahn's favorite warriors and is well known for his power and brutality. Goro helped the emperor grow closer to dominating Earthrealm, but he lost at the tenth while fighting against Liu Kang, who later defeated the sorcerer Shang Tsung.
Combat CharacteristicsEditEdit
Powers and abilitiesEditEdit
Outside of Goro being able to win 9 consecutive Mortal Kombat tournaments, as well as defeating the Great Kung Lao in his first tournament - which Shang Tsung, in his younger form failed to do - not much is stated about his abilities in the plot. The only time there was an indication of his power in the storyline is during the opening of Mortal Kombat: Shaolin Monks, where he easily defeats Johnny Cage, Sonya and Kung Lao.
Goro's fighting style always revolved around taking advantage of his brute strength and surprising agility. In the early games, Goro was an imbalanced character. All of his moves did far more damage then all of the other characters, and because of that he was notoriously difficult to defeat in the first game. In the 3D games, he was toned down to make him more balanced. His current depiction is being powerful, but slow.
Goro is associated with the element of Fire. Like Kintaro, he could either project fireballs either from his mouth or his hands. In Shaolin Monks, he was able to shoot one fireball from each hand. He could also manipulate fire in his hands if he needs to attack using them.
Fireball: Goro shoots a green fireball from his arm. This attack is stronger than most projectiles, just like his physical attacks. It also appeared in Mortal Kombat 4, but this time it was shot out of his mouth, similar to Kintaro. In Mortal Kombat: Armageddon, the fireball is larger, redder, and does standard projectile damage. In Mortal Kombat: Shaolin Monks Goro can shoot one from each hand, four in a row. In MK 2011 Goro returns to shooting one fireball from his arm. (MK, MKT, MK4, MKG, MK:SM, MK 2011)
Leaping Stomp: Goro jumps off the screen and lands on the opponent much like Kintaro and Sheeva. However, in the original Mortal Kombat and in Mortal Kombat (2011), he does not jump all the way off the screen; he only jumps the height of a normal jump. This is also known simply as Stomp in MK 2011. (MK, MKT, MK4, MKG, MK:D, MK:U, MK:SM, MK:A, MK 2011)
Chest Pound: Grabbing his opponents with his lower arms, Goro then pounds them with his upper arms, shaving of a good portion of his opponent's life. In Shaolin Monks, a Test Your Might occurs against Goro when he uses this attack. (MK, MKT, MK4, MKG, MK:SM)
Goro Grab: Goro grabs the opponent in his bottom hands, then palms the opponents face in an upper hand, smashes them on the ground, and then flings them across the arena. This attack is also seen in the opening of Mortal Kombat: Shaolin Monks, used on Johny Cage. (MK 2011)
Spinning Fists: Goro holds out his arms and spins around, smacking his opponent multiple times with his outstretched flaming fists. This is known as Arm Spin in MK 2011. (MKT, MK:D, MK:U, MK:A, MK 2011)
Ad blocker interference detected!
Wikia is a free-to-use site that makes money from advertising. We have a modified experience for viewers using ad blockers

Wikia is not accessible if you've made further modifications. Remove the custom ad blocker rule(s) and the page will load as expected.