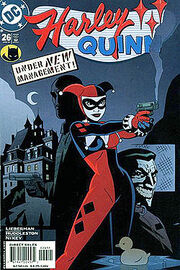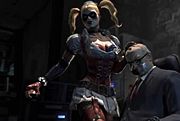 Harley Quinn (Dr. Harleen Frances Quinzel) was first introduced as a villain on September 11, 1992, in the animated series Batman: The Animated Series, later adapted into DC Comics' Batman comic books. As suggested by her name (a play on the word "harlequin"), she is clad in the manner of a traditional harlequin jester. The character is a frequent accomplice and the girlfriend of Batman's nemesis the Joker, and is also close to Poison Ivy, from whom she gained her immunity to poisons and toxins, as well as her advanced physical abilities.
The character was created by Paul Dini and Bruce Timm and was originally voiced by Arleen Sorkin in Batman: The Animated Series and its tie-ins. The character was portrayed by Hynden Walch on The Batman television series. In the Birds of Prey series, she was portrayed by actress Mia Sara, and by Sherilyn Fenn in the pilot episode. Throughout her portrayals, she is shown to speak with a pronounced Brooklyn accent.
IGN's 2009 list of the Top 100 Comic Book Villains of All Time ranked Harley Quinn as #45.[1]
Ad blocker interference detected!
Wikia is a free-to-use site that makes money from advertising. We have a modified experience for viewers using ad blockers

Wikia is not accessible if you've made further modifications. Remove the custom ad blocker rule(s) and the page will load as expected.