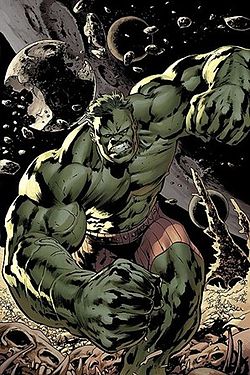 The Hulk is a fictional character, a superhero in the Marvel Comics Universe. Created by Stan Lee and Jack Kirby, the character first appeared in The Incredible Hulk #1 (May 1962).
The Hulk is cast as the emotional and impulsive alter ego of the withdrawn and reserved physicist Dr. Bruce Banner. The Hulk appears shortly after Banner is accidentally exposed to the blast of a test detonation of a gamma bomb (referred to as a "G-bomb") he invented. Subsequently, Banner will involuntarily transform into the Hulk, depicted as a giant, raging, humanoid monster, leading to extreme complications in Banner's life. Lee said the Hulk's creation was inspired by a combination of Dr. Jekyll and Mr. Hyde and Frankenstein.[1]
Although the Hulk's coloration has varied throughout the character's publication history, the most consistent shade is green. As the Hulk, Banner is capable of significant feats of strength, the magnitude of which increase in direct proportion to the character's anger. As the character himself puts it, "The madder Hulk gets, the stronger Hulk gets!" Strong emotions such as anger, terror and grief are also triggers for forcing Banner's transformation into the Hulk. A common storyline is the pursuit of both Banner and the Hulk by the U.S. armed forces, because of all the destruction that he causes.
The character has since been depicted in various other media, most notably by Bill Bixby as Dr. David Banner and Lou Ferrigno as the Hulk in the live action television series, five made-for-television movies, and an animated series; through the use of CGI in Hulk (2003) and The Incredible Hulk (2008), as well as in three animated series and various video games. The Hulk is set to appear in the 2012 film The Avengers
Ad blocker interference detected!
Wikia is a free-to-use site that makes money from advertising. We have a modified experience for viewers using ad blockers

Wikia is not accessible if you've made further modifications. Remove the custom ad blocker rule(s) and the page will load as expected.