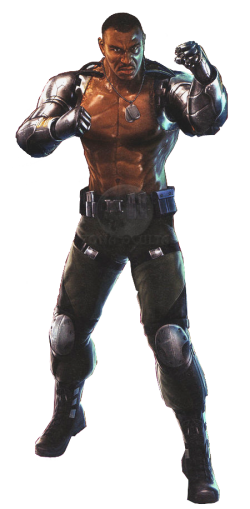 Major Jackson "Jax" Briggs (U.S.A.) is a cybernetically-enhanced soldier who is the leader of the Outer World Investigation Agency (O.I.A.), Earthrealm's Special Forces unit, in the Mortal Kombat fighting game series. He made his debut in Mortal Kombat II.
Jax was the first African-American character in the Mortal Kombat series and made his debut in Mortal Kombat II. He is portrayed as an archetypical American hero. In the chain of command of the Special Forces, he is Sonya Blade's direct superior, and clearly the catalyzing force of Sonya's impulsiveness. Jax is clear-headed, careful and always keeping a watch on what his men are doing, but when the need arises, he is a beast on the battlefield with the attitude and ferocity of a lion. He unscrupulously makes use of the most advanced technology to improve both himself and his unit. He is responsible for the crime lord Kano's disfigurement, forcing him to wear a metal plate over a portion of his face
Jax is depicted as an African American, having dark skin, brown hair and brown eyes. Jax's most striking feature is his impressive muscular upper body build, keeping his torso bare in all but one of his appearances. In his first appearances, he wore karate pants and boots. From Mortal Kombat 3 and onwards, he wears a pair of bionic armor-plating that covers all of his arms.It is not known whether his arms were replaced or upgraded in the original storyline. However, it is possible that he may have used bionic implants until the events of Deception, where he may have willingly had his own arms removed in favour of mechanical replacements. In the alternate timeline of MK 2011, he was forced to use metallic arms in order to survive, after having his organic arms telekinetically removed by Ermac.
Ad blocker interference detected!
Wikia is a free-to-use site that makes money from advertising. We have a modified experience for viewers using ad blockers

Wikia is not accessible if you've made further modifications. Remove the custom ad blocker rule(s) and the page will load as expected.