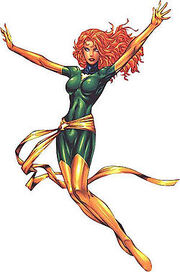 She is a charcter in the Marvel Vs. Capcom series.
Jean Grey-Summers is a fictional comic book superheroine appearing in comic books published by Marvel Comics. She has been known under the aliases Marvel Girl, Phoenix, and Dark Phoenix and is best known as one of five original members of the X-Men, for her relationship with Cyclops, and for her central role and transformation in the classic X-Men storyline "The Dark Phoenix Saga".
Jean Grey is a mutant born with telepathic and telekinetic powers. Her powers first manifested when she saw her childhood friend being hit by a car. She is a caring, nurturing figure, but she also must deal with being an Omega-level mutant and the physical manifestation of the cosmic Phoenix Force. She faces death numerous times in the history of the series, the first being when, in her guise as Marvel Girl, she dies and is "reborn" as Phoenix, which in time leads to her second - though not last - death in the classic "Dark Phoenix Saga".
Jean is an important figure in the lives of other Marvel universe characters, mostly the X-Men, including her husband Cyclops; her mentor and father-figure Charles Xavier; her close friend and sometimes romantic interest Wolverine; her best friend and sister-like figure Storm; and her genetic children Rachel Summers, X-Man, Cable, and Stryfe.
The character is present for much of the X-Men's history, and she is featured in all three X-Men animated series and several video games. Famke Janssen portrayed Jean in the X-Men films. She is a playable character in X-Men Legends (2004), X-Men Legends II: Rise of Apocalypse (2005), Marvel Ultimate Alliance 2 (2009), and Marvel vs Capcom 3: Fate of Two Worlds (2011), and appears as an enemy in the first Marvel: Ultimate Alliance. In 2006, IGN rated Jean Grey #6 on their list of Top 25 X-Men from the past forty years,[1] and in 2011 IGN ranked her 13th in the Top 100 comic books heroes.
Ad blocker interference detected!
Wikia is a free-to-use site that makes money from advertising. We have a modified experience for viewers using ad blockers

Wikia is not accessible if you've made further modifications. Remove the custom ad blocker rule(s) and the page will load as expected.