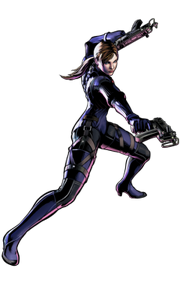 Jill Valentine is a video game character in the Resident Evil survival horror series. She is one of the protagonists in the original Resident Evil and the first Resident Evil character to appear in the Marvel Vs Capcom series. Preceding Chris Redfield and Albert Wesker, both appear alongside Jill (in the first DLC pack) in Marvel Vs. Capcom 3.
A skilled expert at close quarters combat and firearms use, and a piano player who memorized every Beethoven sonata, Jill Valentine was a member of the Alpha Team of S.T.A.R.S., a special unit of the Raccoon City Police Department that was set out to deal with terrorism and increasing cases of violent and serious crimes.
On the night of July 23rd, 1998, S.T.A.R.S.'s Bravo Team went missing, sent to investigate several cases of cannibalistic homicides that occurred in the Arklay Mountains. S.T.A.R.S.'s Alpha Team was soon deployed to investigate. Upon arrival, Alpha Team was soon attacked by feral, mutated dogs, and Jill, Chris Redfield, and Barry Burton escaped to the nearby abandoned Spencer Estate. That night the was the beginning of "The Mansion Incident", where it would be discovered that illegal biological experiments committed by the Umbrella Corporation had founded the T-Virus, a dangerous, contagious virus used to breed biological superweapons.
After the Mansion Incident, Jill would find herself fighting to survive the aftermath of Raccoon City's outbreak and against Umbrella's Anti-S.T.A.R.S. weapon, Nemesis. Surviving that, she and other known survivors would band together and fight to bring down Umbrella.
Ad blocker interference detected!
Wikia is a free-to-use site that makes money from advertising. We have a modified experience for viewers using ad blockers

Wikia is not accessible if you've made further modifications. Remove the custom ad blocker rule(s) and the page will load as expected.