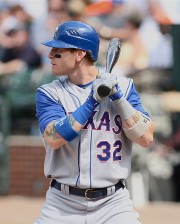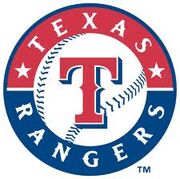 Joshua Holt Hamilton (born May 21, 1981 in Raleigh, North Carolina) is a Major League Baseball player for the Texas Rangers. He was the first overall pick in the 1999 Major League Baseball Draft by the Tampa Bay Devil Rays.[1] He was considered a blue chip prospect until injuries and addiction derailed his career in 2001. Prior to the 2007 season, Hamilton was selected by the Chicago Cubs in the Rule 5 Draft, and quickly sold to the Cincinnati Reds.[2] He made his MLB debut in 2007, and had a successful rookie season. During the off-season he was traded to the Texas Rangers for Edinson Volquez.[3]
After his torrid start to the 2008 season, Hamilton was named to the American League All-Star team. He also participated in the Home Run Derby, where he hit 28 home runs in the opening round, to break Bobby Abreu's record of 24 set in 2005. He finished second in the finals to Justin Morneau, but did hit the second most total home runs of any participant with 35, while Bobby Abreu finished with 41.
Ad blocker interference detected!
Wikia is a free-to-use site that makes money from advertising. We have a modified experience for viewers using ad blockers

Wikia is not accessible if you've made further modifications. Remove the custom ad blocker rule(s) and the page will load as expected.