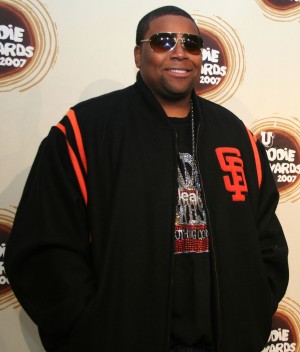 Kenan Thompson (born May 10, 1978) is an American actor and comedian. He is best known for his work as a cast member of NBC's long-running sketch comedy series Saturday Night Live. He ranks at #88 on VH1's 100 Greatest Teen Stars. Throughout the 1990s, he frequently collaborated with fellow comedian Kel Mitchell.
He is also known for his starring roles in the films Good Burger, his portrayal of Kenan Rockmore on the Nickelodeon sitcom Kenan & Kel, and as an original cast member of the Nickelodeon sketch comedy series All That. Among his notable characters are Superdude, Pierre Escargot, and Randy.
He hosted the second season of Oh Yeah! Cartoons, and made guest appearances on The Amanda Show and Cousin Skeeter. After a long break from the network, he returned to voice Rocky Rhodes on The Mighty B!.
He guest-starred as himself in the iCarly-Victorious crossover iParty with Victorious. He claims that among the people constantly asking him for money is his original castmates on All That.
He currently is the "host" of the TeenNick's late-night block "The '90s Are All That".
Ad blocker interference detected!
Wikia is a free-to-use site that makes money from advertising. We have a modified experience for viewers using ad blockers

Wikia is not accessible if you've made further modifications. Remove the custom ad blocker rule(s) and the page will load as expected.