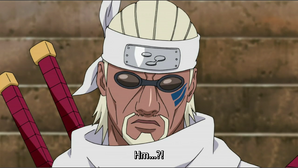 Killer Bee is a character in the naruto Series.
While leaving the Valley of Clouds and Lightning after training, B is confronted by Taka. He is immediately attacked by Suigetsu, whose sword B takes and uses to overpower Jūgo. Sasuke Uchiha then steps in and uses his own sword to take back Suigetsu's. Impressed, B brings out his seven swords and assaults Sasuke, attacking him so quickly and in such an unorthodox manner that Sasuke cannot track his movements with his Sharingan. Sasuke tries to gain the upper hand by channelling lightning through his sword, so B does the same with one of his swords and removes the advantage; he plunges six of his seven swords into Sasuke's chest, fatally wounding him. Before he can finish off Sasuke, Suigetsu and Jūgo come to his defence. B is able to damage Suigetsu's sword but Taka is also able to land some strikes, including Sasuke's Chidori. Sasuke is healed by Karin and the fight continues. B becomes bored with the fight and tries to leave, but is tracked by Karin. With escape not an option, B enters a version 1 form and attacks Taka. Taka is able to elude him and Sasuke catches him in a genjutsu, which the Eight-Tails helps B break out of. Sasuke, unaware of this, lets his guard down and creates an opening for B to hit him with a Lariat, blasting a hole in Sasuke's chest, again mortally wounding him. Deciding to finish things off, B fully transforms. He fires a Tailed Beast Ball, which Suigetsu is able to protect the rest of Taka from by using himself as a shield. Sasuke, specially healed by Jūgo, uses Amaterasu on B. B rampages in pain and almost crushes Karin with one of his tentacles. Sasuke severs the tentacle. B continues to writhe until he wears himself out and falls unconscious. Sasuke puts out the rest of Amaterasu's flames and delivers B to Akatsuki. While later trying to extract the Eight-Tails from this B's body, Akatsuki discovers that this is only a fake; the real B, hidden in the severed tentacle, leaves the Valley of Clouds and Lightning in secret, allowing Kumo and the Raikage to believe he was captured while he enjoys some vacation time.
Ad blocker interference detected!
Wikia is a free-to-use site that makes money from advertising. We have a modified experience for viewers using ad blockers

Wikia is not accessible if you've made further modifications. Remove the custom ad blocker rule(s) and the page will load as expected.