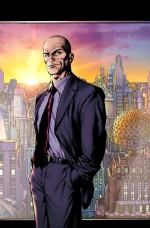 He is one of Superman's Villains in the Superman series.
Lex Luthor is a fictional character, a comic book supervillain that appears in the pages of DC Comics. One of the many DC characters chosen to appear in the crossover video game Mortal Kombat vs. DC Universe, his position as Superman's arch nemesis makes Luthor a dangerous foe to anyone that opposes him. Reliant on cybernetics to face his enemies in combat, his counterpart in the crossover game is Jax Briggs.
Lex Luthor is one of the most dangerously intelligent men on the planet- a super-villain, a brilliant scientist, a billionaire industrialist, and Superman's greatest enemy. This combination makes him an extremely powerful and formidable opponent; he is ruthless, efficient, and creative. In addition to his personal vendetta against the man who thwarts his every scheme, he despises the alien Man of Steel from an ideological standpoint for contradicting his human achievements. Luthor has always been a controversial figure in the public eye due to LexCorp's corrupt business dealings, but he has also maintained political popularity. He has been a member of the Injustice Gang, the Injustice League, the Secret Six, the Secret Society of Super-Villains and Project 7734. Lex Luthor was created by Jerry Siegel and Joe Shuster and has had a lengthy publication history, first appearing in Action Comics #23. (1940)
Ad blocker interference detected!
Wikia is a free-to-use site that makes money from advertising. We have a modified experience for viewers using ad blockers

Wikia is not accessible if you've made further modifications. Remove the custom ad blocker rule(s) and the page will load as expected.