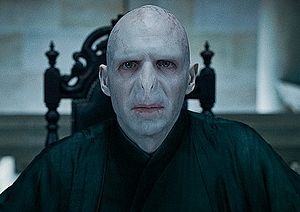 Voldemort is Harry's main villain in the Harry Potter series.
Lord Voldemort born Tom Marvolo Riddle) is the main antagonist of the Harry Potter series written by British author J. K. Rowling. Voldemort first appeared in Harry Potter and the Philosopher's Stone, which was released in 1997. Voldemort appeared either in person or in flashbacks in each book and film adaptation in the series, except the third, Harry Potter and the Prisoner of Azkaban, where he is mentioned.
In the series, Voldemort is the
archenemy
of
Harry Potter
, who according to a
prophecy
has "the power to vanquish the
Dark Lord
". Almost no witch or wizard dares to speak his name, instead referring to him as "You-Know-Who", "He-Who-Must-Not-Be-Named" or "the Dark Lord". Voldemort's obsession with
blood purity
signifies his aim to rid the
wizarding world
of
Muggle
(non-magical) heritage and to conquer both worlds, Muggle and wizarding, to achieve
pure-blood
dominance. Through his mother's family, he is the last descendant of wizard
Salazar Slytherin
,
[2]
one of the four founders of
Hogwarts School of Witchcraft and Wizardry
.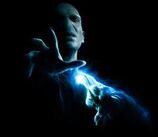 According to an interview with Rowling, "Voldemort" is pronounced with a silent 't' at the end, as is common in French.[1] This was the pronunciation used by Jim Dale in the first four U.S. audiobooks; however, after the release of the film version of Harry Potter and the Philosopher's Stone, in which the characters who dared refer to him by name pronounced it with the "t", Dale altered his pronunciation to that in the films.
Ad blocker interference detected!
Wikia is a free-to-use site that makes money from advertising. We have a modified experience for viewers using ad blockers

Wikia is not accessible if you've made further modifications. Remove the custom ad blocker rule(s) and the page will load as expected.