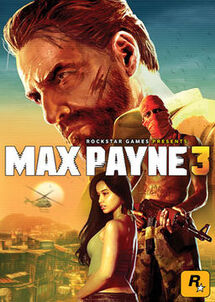 Max Payne 3 is a third-person shooter video game developed by Rockstar Studios and published by Rockstar Games.
It is the third title in the Max Payne franchise and was released for PlayStation 3 and Xbox360 in May 2012 and for Microsoft Windows in June. Development is led by Rockstar Vancouver in collaboration with the New England, London and Toronto studios. This is the first game in the series that was not developed by Finnish game developer Remedy Entertaiment and not written by series creator Sam Lake.
The lead writer of Max Payne 3 was Dan Houser, who was also the writer of Red Dead Redemption, Grand Theft Auto IV, and Bully, among other acclaimed games.
Ad blocker interference detected!
Wikia is a free-to-use site that makes money from advertising. We have a modified experience for viewers using ad blockers

Wikia is not accessible if you've made further modifications. Remove the custom ad blocker rule(s) and the page will load as expected.