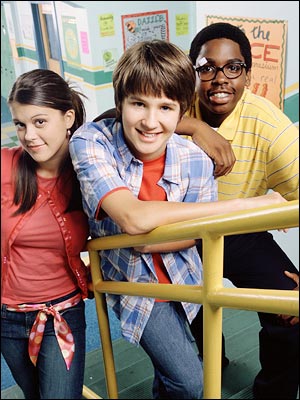 Ned's Declassified School Survival Guide, sometimes shortened to Ned's Declassified or Ned's, was an American live-action "situation comedy" on Nickelodeon that debuted in the channel's Sunday night TEENick scheduling block on 12 September 2004 in the USA. The series' actual pilot episode aired on 7 September 2003 without many of the current version's main characters. The series finale television movie aired on 8 June 2007.
The visual effects were done by John Allison Inc., supervised by John Allison and Robin Snelson. The show is produced by ApolloProScreen GmbH & Co. Filmproduktion KG in association with Jack Mackie Pictures, its main executive producer and creator is Scott Fellows, the head writer for The Fairly OddParents, which is why in the short titled "Day Dreaming", which aired on 5 February 2005 Cosmo and Wanda appeared. Former The Wonder Years star Fred Savage is one of the show's directors. The other executive producers were, Jörg Westerkamp and Bill O'Dowd. Rich Magallanes was the executive in charge of production.
Ned's Declassified School Survival Guide chronicles the wacky adventures of Ned Bigby and his best friends Jennifer Mosely better known as Moze, and Simon Nelson-Cook a.k.a., (Cookie) at James K Polk Middle School Ned breaks the fourth wall to share tips and tricks on navigating middle school or junior high hurdlles.
Each 22-minute episode contained two 11-minute shorts, both of which deal with a subject about home life, each containing a odd plot and a odder plot in the next episode.
Ad blocker interference detected!
Wikia is a free-to-use site that makes money from advertising. We have a modified experience for viewers using ad blockers

Wikia is not accessible if you've made further modifications. Remove the custom ad blocker rule(s) and the page will load as expected.