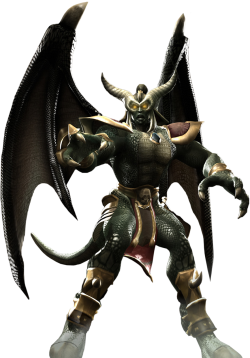 Onaga the Dragon King, is a fictional character in the Mortal Kombat fighting game series. He made his debut in Mortal Kombat: Deception, in which he also served as the boss. He then became playable in Mortal Kombat: Armageddon.
Onaga was introduced in Mortal Kombat: Deadly Alliance under the cryptic name of the "Dragon King", the long-dead ruler of Outworld, even before Shao Kahn. Not much was known about him, except for the fact that his army was deemed undefeatable but, at his untimely death, allowed itself to be mummified and kept in an ancient tomb that was not uncovered until the necromancer Quan Chi stumbled upon it. Onaga is one of the series' characters through which the One Being is rumored to work. His most important powers include superhuman strength and resistance to all forms of magic, and the innate power to raise the dead.
A millennia ago, Onaga, also known as the Dragon King, was the true ruler of Outworld. Hoping to gain eternal life, he ordered the last known dragon egg to be kept, hoping that the blood of an infant dragon would grant him immortality. However, he died before this could be fulfilled. Shao Kahn, one of his chief advisors, had him poisoned and took over his rule of Outworld. His army, however, was kept in a mummified state. This army was considered undefeatable because Onaga possessed the innate power to raise the dead. By means of constant resurrection during battles, his army truly was undefeatable. During the millennia that followed, Onaga was apparently forgotten. Onaga's helmet from MKA KonquestQuite some time before Liu Kang's victory over Goro and Shang Tsung at the Shaolin Mortal Kombat tournament, Onaga communicated through death to Shujinko through an avatar named Damashi. He persuaded Shujinko to embark on a quest to unite the Kamidogu, claiming he was carrying out the will of the Elder Gods, as well as granting him the power to learn the fighting techniques of warriors he encountered. Shujinko readily embarked on his quest, beginning to set in motion events that Onaga hoped would lead to his eventual return to power. Additionally, a sect of holy men still dedicated to him had been guarding the egg of the last great dragon in a chamber of molten lava. During the events of Mortal Kombat II, they captured the Outworld elemental Blaze, who was forced to guard the egg until it was ready to hatch and revive the king.
Ad blocker interference detected!
Wikia is a free-to-use site that makes money from advertising. We have a modified experience for viewers using ad blockers

Wikia is not accessible if you've made further modifications. Remove the custom ad blocker rule(s) and the page will load as expected.