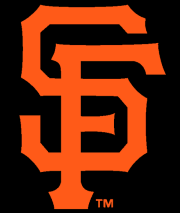 The San Francisco Giants are a Major League Baseball team based in San Francisco, California. They play in the West Division of the National League.
The Giants are the current World Series champions, having defeated the Texas Rangers in the 2010 World Series by four games to one. As one of the oldest baseball teams, they have won the most games of any team in the history of American baseball, and any North American professional sports team.[1] They have won 21 National League pennants and appeared in 18 World Series competitions – both records in the National League (tied for both with the Los Angeles Dodgers). The Giants 6 World Series Championships are also tied for second in the National League with the Dodgers (the St. Louis Cardinals have won 10). The Giants have been invited to the World Series an NL record 19 times, but boycotted the event in 1904. With their history, the Giants have the most Hall of Fame players in all of professional baseball.[2]
The Giants played at the Polo Grounds in Manhattan, New York, until the close of the 1957 season, after which they moved west to California to become the San Francisco Giants. As the New York Giants, they won 14 pennants and 5 World Championships, from the era of John McGraw and Christy Mathewson to that of Bobby Thomson and Willie Mays. The Giants have won four pennants and the 2010 World Series since arriving in San Francisco.
Ad blocker interference detected!
Wikia is a free-to-use site that makes money from advertising. We have a modified experience for viewers using ad blockers

Wikia is not accessible if you've made further modifications. Remove the custom ad blocker rule(s) and the page will load as expected.