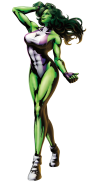 She-Hulk, a.k.a. Jennifer Walters, is a Marvel Comics superheroine from the 'Incredible Hulk' franchise.
Jennifer Susan Walters, the cousin of Bruce Banner (Hulk), is the small and somewhat shy daughter of Los Angeles County Sheriff William Morris Walters and Elaine Walters. Operatives of Nicholas Trask, a Mafia crime boss who had crossed paths with her father, shot and seriously wounded her on a day that Bruce Banner happened to be in town for a visit. Since no other donors with her blood type were available, Banner provided his own blood for a transfusion; as they already shared the same blood type and DNA, his radioactive blood, combined with her anger transformed Jennifer into the green-skinned She-Hulk when the mobsters tried to finish her off at the hospital.
A transfusion of gamma-irradiated blood from her cousin Bruce Banner (the Hulk) granted Jennifer Walters superhuman powers (and she kept her mind from the start). In her She-Hulk form, she possesses enormous superhuman strength, which even when calm makes her one of the strongest known women in the Marvel Universe.
As She-Hulk, Walters is exponentially stronger than she is in her Jennifer Walters form; therefore any extra strength gained as Jennifer Walters through intense physical training will be amplified, making her She-Hulk form even stronger. After being defeated by the Champion of the Universe, She-Hulk exercised for several months in her Jennifer Walters form, resulting in a significant gain in strength and muscular mass in her She-Hulk form and allowing her to soundly defeat the Champion in a rematch. At this time she was able to effortlessly sustain the Thing's maximum weight with a single arm, while her strength was greatly restrained by a "Jupiter suit," and she was shown as considerably stronger than Hercules. Her base strength level has since receded.
She-Hulk is a physical powerhouse who excels in close combat. She has the second highest stamina of all the female characters in the game and among the higest overall, surpassed only slightly by Sentinel, Thor, Hulk Haggar and Tron Bonne.
Ad blocker interference detected!
Wikia is a free-to-use site that makes money from advertising. We have a modified experience for viewers using ad blockers

Wikia is not accessible if you've made further modifications. Remove the custom ad blocker rule(s) and the page will load as expected.