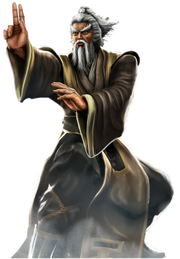 Shujinko is a fictional character in the Mortal Kombat game series. He made his debut in Mortal Kombat: Deception as the main character and protagonist of Konquest Mode.
Shujinko made his debut in Mortal Kombat: Deception as the game's protagonist. He is an adventurer who, as a boy, dreamed of fighting Shang Tsung. He has traveled the realms and learned the kombat skills of many warriors. His old age has made him wise, but at a cost: he bears an immense guilt for releasing Onaga into the realms again, and now that he is discarded by the Dragon King, has vowed to make up for this mistake. A member of the White Lotus, he shares traits with the games' Shaolin monk characters, such as his great receptiveness, deliberation and ability to meditate for weeks. Nevertheless, before all other things, he has always been a traveler and a student at heart.
Ad blocker interference detected!
Wikia is a free-to-use site that makes money from advertising. We have a modified experience for viewers using ad blockers

Wikia is not accessible if you've made further modifications. Remove the custom ad blocker rule(s) and the page will load as expected.