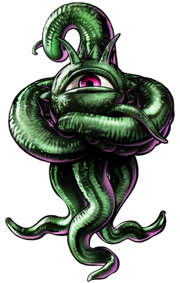 Shuma-Gorath is a character that appears in Marvel Super Heroes, Marvel Super Heroes vs. Street Fighter, Marvel vs. Capcom 2: New Age of Heroes, and Marvel vs. Capcom 3: Fate of Two Worlds as part of the first D
Although his true origins are unknown, before the arrival of the First Host of the Celestials, Shuma-Gorath ruled the Earth and commanded human sacrifice, until the time-traveling sorcerer Sise-Neg banished him. He managed to return and set himself up as a god during the Hyborian Age, again commanding bloody sacrifice, but slaughtered those who sought his favor. Eventually, the power of Crom imprisoned him within a mountain. Even from that prison, he could interact with Conan the Barbarian, Kulan Gath, and many others, before Crom banished him back to his home dimension.
When Shuma-Gorath tried to return to Earth through the mind of the Ancient One, he forced Doctor Strange to kill his master to prevent the powerful creature from arriving on Earth. Years later, Strange was forced to destroy the talismans keeping the chaos demons at bay, to keep them from falling into the hands of an evil sorcerer. Strange was then forced to travel to Shuma-Gorath's dimension and fight it there to prevent the demons from invading Earth. To do so, Strange had to absorb the chaos magic into himself, gaining enough power to destroy Shuma-Gorath. However, he started to transform into a new Shuma-Gorath himself as a result, so he committed suicide to prevent that from happening. Fortunately, an ally of Strange was able to purify him on his way back to the living. Shuma-Gorath resurrected himself not long after from the remnants of chaos magic.LC pack.
Ad blocker interference detected!
Wikia is a free-to-use site that makes money from advertising. We have a modified experience for viewers using ad blockers

Wikia is not accessible if you've made further modifications. Remove the custom ad blocker rule(s) and the page will load as expected.