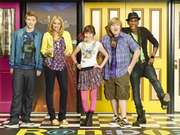 So Random! is an American
Disney Channel
sketch comedy series that premiered on June 5, 2011. It was announced as an independent series after
Demi Lovato
left the parent series,
Sonny with a Chance
.
[1]
The series stars the other actors of
Sonny with a Chance
:
Tiffany Thornton
,
Sterling Knight
,
Brandon Mychal Smith
,
Doug Brochu
and
Allisyn Ashley Arm
as well as other featured actors that recur in the series. The series premiere was watched by 4.1 million viewers.Concept, production and premise
In Sonny with a Chance, Demi Lovato plays the title character, Sonny Munroe, a new member of the cast of the sketch comedy show So Random!, which is presented as a show-within-a-show. The series follows the experiences of Sonny, and the rest of the cast. The full length sketch comedy episode format was played within Sonny with a Chance during season 2 of the series for the Christmas and Halloween episodes. In October 2010, Lovato underwent treatment for "physical and emotional issues," and in April 2011 she confirmed that she would not be returning to Sonny with a Chance for its third season.[3] She stated that returning to acting immediately wouldn't be healthy for her recovery.[4]
Following Lovato's departure from the series, So Random! was introduced as its own series that will focus more on comedy skits than Sonny with a Chance. Filming for the season began on January 30, 2011.[5] Each episode will feature sketch comedy skits with the So Random! cast, as well as a musical performance by a guest star. Originally intended to be a third season of Sonny with a Chance, Disney began to describe the show as a separate series following Lovato's confirmed departure.[1] Each episode typically consists of five or six sketches.
See also: List of Sonny with a Chance characters===[edit] Main cast=== [1][2]The main cast of So Random!. (Left to right) Sterling Knight, Tiffany Thornton, Allisyn Ashley Arm, Doug Brochu, and Brandon Mychal Smith.Except for Lovato, the main cast of So Random! is identical to that of its parent series, Sonny with a Chance.[6]
[edit] Recurring charactersEdit
[edit] Guest stars and artistsEdit
Cody Simpson, performed "All Day"
Greyson Chance, performed "Waiting Outside the Lines"
Selena Gomez & the Scene, performed "Who Says"
Mitchel Musso, performed "Get Away" and participated in the "Guac-A-Mole" sketch
Tony Hawk, participated in the "Lunch Lady Selects" sketch
Coco Jones, performed "Stand Up" and participated in "The Back Up Singers" sketch. She is also a recurring character.
Jacob Latimore, performed "Like 'Em All" and participated in the monologue.
Mindless Behavior, performed "My Girl"
Colbie Caillat, performed "Brighter Than the Sun"[7]
Far East Movement, performed "Rocketeer" with Miguel and participated in the "Teen Rage: Music Video" skit. [6]
Kicking Daisies, performed "Keeping Secrets"[6]
Hot Chelle Rae[10], performing "Tonight Tonight"
Chelsea Kane, participating in the new "Nolan" sketch, "Dance Fever", and "Super-Sized Sunglasses sass-off"
Miss Piggy participating in sketches in episode 14.
The Ready Set[6], performing "Young Forever"
Cast of Lemonade Mouth, performing "Somebody"[11]
Ad blocker interference detected!
Wikia is a free-to-use site that makes money from advertising. We have a modified experience for viewers using ad blockers

Wikia is not accessible if you've made further modifications. Remove the custom ad blocker rule(s) and the page will load as expected.